By Kempton Smith, BGP Contributor and App Alumnus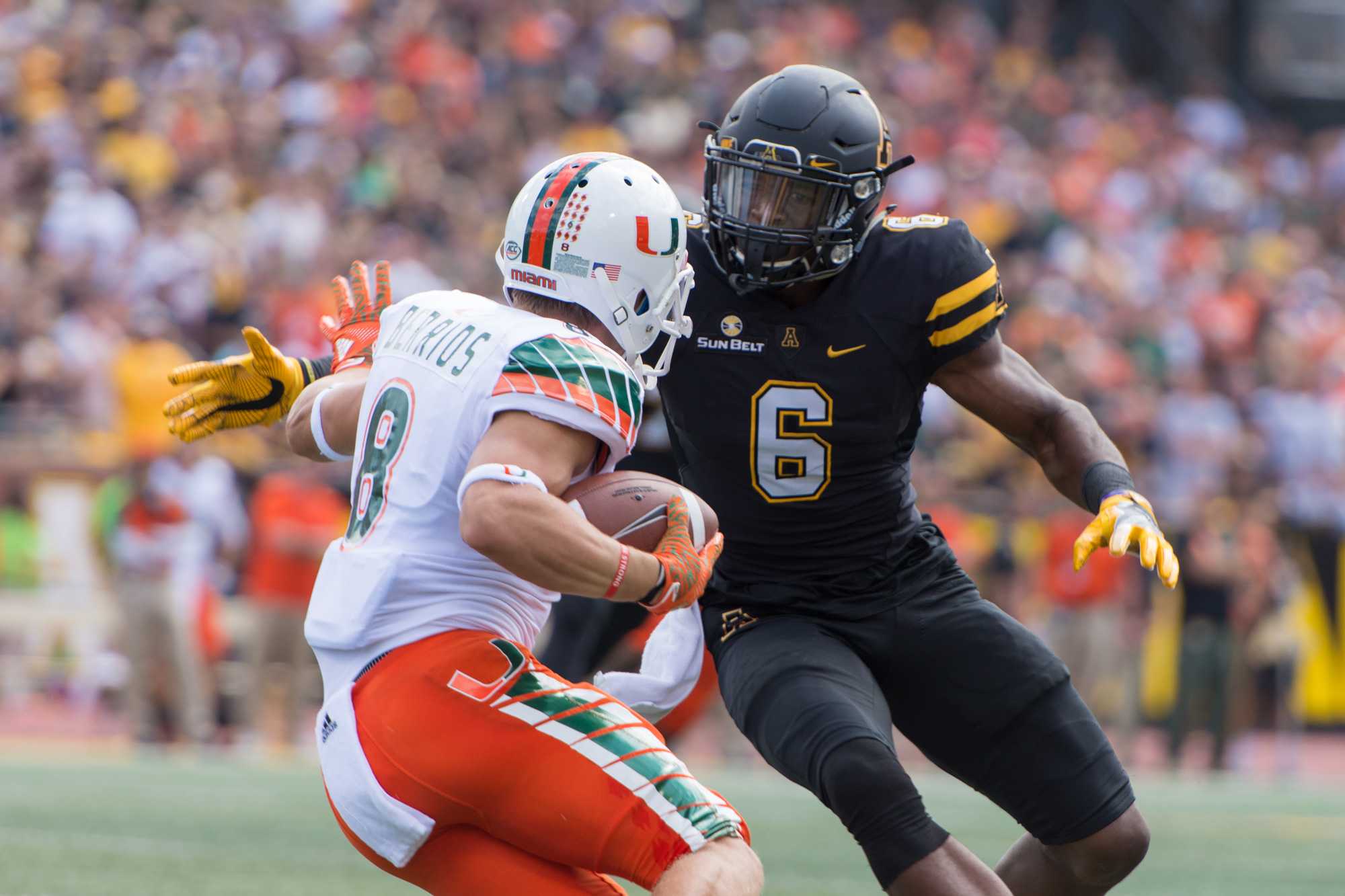 The only thing App State and the University of Miami have in common centers around the phrase "The Rock."  Kidd Brewer Stadium has been affectionately known as The Rock since the late 1990s and arguably the most famous movie star on planet earth, The Rock (aka Dwayne Johnson), is a Miami Hurricane football alumnus who won a National Championship with Miami in 1991.
The similarities end there. As we all know, Appalachian State is a state school in a beautiful mountain town that began as a teacher's college over a century ago. Miami, on the other hand, is a private university that was chartered in 1925 by a group with a vision to start a co-ed college focusing on "inter-American" studies, to develop the "Arts," and to conduct teaching and research programs in "tropical studies." Despite significant financial difficulties (including bankruptcy filed in 1932), the University continued offering instruction. Over the years, Miami added a Law School (1928), Colleges of Business and Education (1929), and a Medical School (1952). Today it is a thriving, well-funded University with an endowment of over $1 BILLION.
The U is ranked "overall" number 49 among national universities, 10th best for Physical Therapy by US News and 3rd best for Nursing in the state of Florida by Nurse.org. It is the most selective University in Florida; the undergrads' median SAT is reported 1400 among its 17000 students. The faculty to student ratio is 12:1. Tuition is $53,682.
By comparison, Appalachian's total student enrollment in fall 2021 is 20,000. Tuition is $7,410 for NC residents and $22,217 for out-of-state students. The median SAT of enrolled students is around 1150. App State's US News ranking is 6th best overall in the South Region (among master's level universities), 2nd best among southern Teaching colleges, and top-ranked in the state of NC for Nursing education (as rated by Nurse.org).
Miami's campus is 239 acres in downtown Miami, FL. 5500 students live on-campus. App State's campus is 1.5 times the size of Miami's with 375 "developed acres" supporting a similar number of students residing on-campus.
Notable alumni of Miami include:
Musicians such as Gloria Estefan, Enrique Iglesias, Bruce Hornsby, Ben Folds, and Jon Secada
Screen entertainers include Jeff Garlin (of The Goldbergs), Gene Roddenberry (Star Trek originator), Dwayne Johnson (the Rock), Sylvester Stallone, and Charles Grodin.
Athletes Greg Louganis (Olympic gold medalist), Greg Olsen (former Panther TE), Frank Gore, Reggie Wayne, Santana Moss (too many to recognize)
Football Culture: Parking lot, Stands, Scoreboard
Comparing Tailgating, the In-Stadium experience, Boosters, and Football expenditures
Parking Lot
Big-time tailgating success is driven by a cooler-filled, on-site-grilled mentality that is evident in both Miami and Boone. What does appear to be different at Hard Rock Stadium parking lot is the menu, and a "club" atmosphere. When tailgating in Miami, expect more Cuban/Jamaican flair to the foods in addition to traditional ribs, hot dogs, BBQ, etc. Descriptions of tailgating in Miami share almost a South Beach "night club" feel, especially at some of the entry areas. It apparently has more electric music played over sound systems, rather than the Pregame blaring while Band of Distinction is playing at random gathering areas. They do not appear to have anything resembling Mountaineer walk. Some fans appear to be more focused on dressing for attention, rather than supporting the orange and green. Tailgating in Miami may not be hindered by the hot autumn weather; however, it is limited to 4 hours before game time by stadium rules.
Stands
Located about 30 minutes north of the campus, the Hurricane's home field is not owned nor fully controlled by the U. The stadium is shared with the NFL Miami Dolphins franchise. With seats for 65,000 fans, the venue is also the site of the annual Orange Bowl and has hosted six Super Bowls. Despite being off campus, the Hurricanes have the best attendance in the ACC, averaging 55,822 per game.
Fans of Miami have game traditions like App State. Both share the smoky entrance into a roaring stadium. The Canes add a Hurricane siren. Ibis, the mascot, roams the crowd like Yosef, and fans hold up four fingers in the break between the third and fourth quarter. A cannon fires after scores and to celebrate hard-fought wins. The most notable difference is the fans displaying the "U" by holding their hands up, palms out, touching their thumbs.
Boosters
The University of Miami's booster organization is the Hurricane Club. Other than promotional information, they don't share any details online. 2019-2020 was a down year for most boosters; the Hurricane Club as well. A down year for them, "nearly $11m was raised for operations". A 2014 report leaked on social media shared a total 8,002 contributors. (App reports Yosef Club contributions of $3.9m from 2,700 members.)
Big time football finds big-time money. Sometimes that money is ill-gotten. Eight years ago The U was investigated for "inappropriately entertaining" high school recruits in bars, providing alcohol and other favors, all orchestrated by a high-profile booster. Credible media reported that coaches and university officials "looked the other way." For the crimes committed, the booster is serving a 20-year sentence, and the U accepted punishment from the NCAA including a 1 year postseason ban, and reduction of 31 scholarships from 1996 to 1999). A few years earlier the U suffered stiff penalties for misappropriating Pell Grants, which allegedly enriched high-profile football players.
Football Budgets
The University of Miami is private, and they choose not to make financial information public. Using the average reported by ACC institutions as a surrogate, Miami likely spends about $32m on football (more than 3 x App). Donations, ACC television agreements, and corporate sponsorship go a long way to helping the typical ACC institution spend significantly more dollars.
Scoreboard
Since entering the FBS in 2014, App has won outright or shared the Sunbelt conference title four times. Since becoming eligible, App has never failed to appear in and win a bowl game, with a 6-0 bowl record. App is in the top 5 for most wins in the BCS division and 4 of the last 6 years, App has 10 or more wins.
Miami was national champion in 2001 and runner-up in 2002. In the last 20 years, they have had only two seasons below .500 and only three that did not end with a bowl game. The bowl win record is not impressive at 5-12
In more recent years, Miami has not been as impressive as the early 2000s. Miami has not won a conference title but played (and lost) in the ACC championship game in 2017. 2018 closed at 7-6 (first year under the current Head Coach, Manny Diaz). 2019 ended with a 6-7 record, and 2020 improved to 8-3, with losses to Clemson, North Carolina, and Oklahoma State. The 2021 campaign started with a top 20 ranking and an opening game against Alabama on a neutral field.
The most significant Football Culture statement for Miami is the tradition of players in the NFL. The U website reports an all-time total 281 draft picks, 60 of which were first rounders. 63 Miami teammates have gone on to play in Superbowls and 151 football alums were selected to the Probowl. In 2020 they had 30 players active on NFL rosters, good enough for 8th place among all college programs.
Pre-game Football Culture Summary
Urban vs. suburban, highly funded vs. "chip driven," DOJ & NCAA investigations vs. pretty doggone clean; how should we score the culture of these two programs.
App wins the parking lot in Boone. Cool autumn afternoons and mountain venues are hard to beat. App fans will endure the south Florida heat and humidity with the best the U has to offer. While much bigger, the sea-level venue of Hard Rock Stadium and the polished pro venue will look good but will not have the heart of KBS.
Miami wins my scoreboard comparison. The National Championship run, the tradition of winning and "being" a premier program along with the number of Pro-bowlers and HOF inductees is just stronger than App's results at this point.
While some believe it's all about the destination, I think how you get there matters too. I am proud of how we got here and where I think we are going. Like the NCAA sanctions, I take points away for Miami's recruiting and Pell Grant violations. That misbehavior follows a program forever.
Football Series
There is a lot to look forward to in this game. am looking forward to this one especially. Five seasons ago seems like longer. The Miami game week in Boone was electric. For the first time, a top 25, perennial power, ACC football team visited Boone. Two weeks earlier, App played at Tennessee and took the nationally ranked Vols to OT. Expectations were high. KBS had the highest number of spectators on hand to date (and that game still holds the number 2 attendance spot). The App faithful thought we had the talent to compete. Miami played tough and taught us we had to grow, handing App a 45-10 loss. This week we get to see how well we have progressed.
This game in Miami is the second half of our series against the Hurricanes. It will be the home opener for the 14th ranked Hurricanes.